Role:
Motion and Design Lead
Client:
Capital One Credit Card Site
The Venture card product was launching the biggest early spend bonus of 100,000 points ($1,000) and needed a way to clearly communicate and focus the target customer to apply while shielding ineligible customers from getting declined.
A friendly and delightful animated pop-up that was triggered only for upmarket customers based on their customer signals.
The pop-up drove a 10% lift in conversion, which equates to $850k in annual profit from customers. The card team has  reused this pop-up for every promotion since and has seen consistent conversion lifts. 
Research showed clear opportunities to innovate
This offer focused on upmarket customers. Typically, they are less exploratory and choose products that give the highest rewards. Upmarket customers invest their time in social gatherings, and live experiences, with a heavy focus on travel for vacationing. Making them the perfect match for this promotion.
I dove into the discovery phase, looking at industry and analogous examples, and identified two areas to improve upon. By delaying the pop-up trigger by a few seconds, it allows our customers to get their bearings before encouraging them to take advantage of a promotion. Across the board, pop-ups typically instantly appear on screen. To ease our customers into the offer, I leveraged subtle motion to transition the pop-up on screen. This, paired with the delayed trigger timing, created a smoother pop-up experience.
The static designs needed motion
By understanding the upmarket customer and the opportunities to improve on a pop-up, I was able to craft an experience that is more relevant and human-centered. Leveraging our design system and working closely with a content strategist the static design was as clear and quickly scannable as possible After a few rounds of iterations and share-outs, I had the design ready.
Motion specs for development
Having the concept ready and approved still left the hurdle of tech implementation, particularly with motion. To ensure a streamlined workflow, I worked closely with the lead developer. To aid in that process I created a simple motion spec, which included timing and easings. After several screen-sharing Zoom sessions and diving into the code together, it looked nearly identical to the initial concept.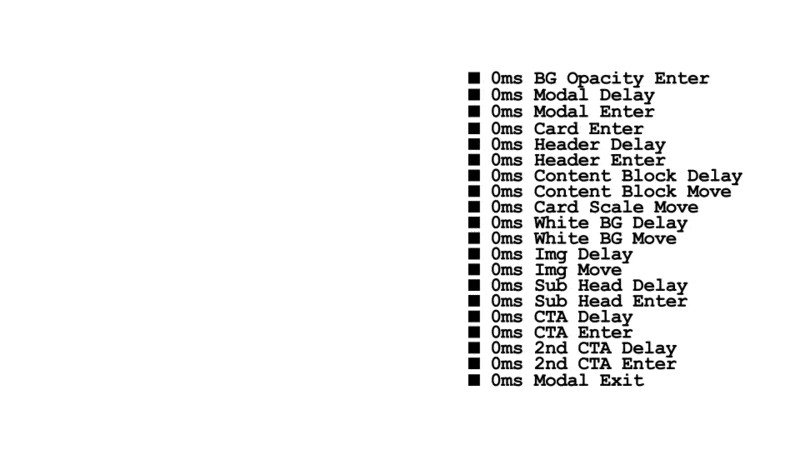 Impacts that scaled beyond the moment
The performance of this pop-up was extremely positive, driving a 10% lift in conversion, which equated to $850K annually. Since this successful launch, the team has been able to reuse this pop-up component for every product promotion and continues to see statistically significant increases in conversion every time.